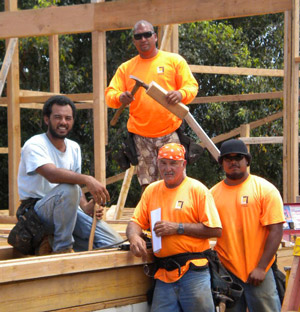 Curtis Law, founder and President of Curtis Law Construction came to Kauai from California in 1969 with his wife and brother-in-law, Brian Blackwell, to set off on an adventure and help another family member build their home on Kauai. This adventure turned into a life on Kauai and Blackwell Builders was soon formed and Curtis was Superintendent of this family run business. In 1977 Curtis became licensed under the Blackwell Builders Corporation as an RME (Responsible Managing Employee) building 100's of homes on Kauai. At one point Blackwell Builders built 80% of the homes in Princeville. In addition to the mainly residential building going on at the time they also built Lihue Shopping Center Annex, Haleko Shops, Lihue Pizza Hut, Poipu Palms Condominium, Poipu Makai Condominium, and Poipu Crater Complex among many other commercial projects.
In 1982, an unfortunate, yet natural, life altering event happened; Hurricane Iwa swept through Kauai and Curtis knew life was going to change overnight. Taking misfortune and turning it into opportunity he started his own construction company with his crew and hit the ground running.
Today, Curtis is still passionately involved in all aspects of his construction business doing a litany of residential, commercial, condominium work, State work, hotels, churches, as well as remodeling. Curtis Law Construction is the only authorized builder of Garco metal buildings on Kauai. We've kept our A+ rating with the BBB amongst many other designations and accreditations. In addition, we are continuing to expand our knowledge base with a new quest into being a Certified Green Builder.
Curtis Law Construction is a full service construction company with emphasis in our Discuss It, Design It, Build It, motto. We facilitate every aspect of the process with help from our established relationships with local Architects, Designers and Subcontractors, and provide the best possible experience from start to finish.
If you have any questions about building on Kauai, we are only a phone call away. Contact us today at (808) 246-0676.
---